When tourism and Tunisia is mentioned, Tabarka rarely follows in the sentence. Most people are accustomed to the 'usual' suspects when it comes to holidaying in this country, with the likes of Tunis and Sousse being two prime examples.
Tabarka is a completely different type of location; being a small village that is generally frequented by locals. If you have the time, it's certainly worthy of a visit, as we take a look at the destination in further detail through this guide.
How do you get to Tabarka?
Due to its size, Tabarka isn't exactly accessible when compared against other regions in Tunisia.
With that being said, it does boast its own airport which goes by the name of Tabarka-Ain Draham International Airport. However, most major airlines will instead fly to some of the more established facilities in Tunisia, with Tunis arguably being the most common. This happens to be around 120km from Tabarka though, so you will have to make suitable travel arrangements if you opt for this approach. In fact, you may have to travel to Bizerte – as this is one of the few places which offers a direct route to Tabarka. Most people who turn to this approach will utilize a louage, which will unfortunately encompass a lot of changes.
What is the local transportation system like?
One of the benefits about Tabarka being so small is that everything is in close proximity. As such, most tourists find that walking is a perfectly acceptable form of transport.
What are the best attractions to see?
As you have probably gathered from the general vibe of this guide, Tabarka is reserved for those tourists who like to bask in culture and history. This is how the majority of the top attractions can be categorized, as we take a look at them in detail:
Genoese Fort: For those of you who appreciate extraordinary views, Genoese Fort certainly falls into this category. It is situated on its own island, which is accessed through an impressive 400m causeway. Unfortunately, little remains of the fort itself but as we've already highlighted, most people take to this attraction just for the incredible views that it presents.
Bulla Regia: Bulla Regia is about 65km away from Tabarka, but you can still comfortably accommodate it within a day trip. It's one of the most prominent Roman sites in the country and contains everything from small baths and cisterns, to a whole theatre and various villas. A lot of the remains happen to be underground, with this being one of the principle methods of construction that the Romans used to deploy, meaning that this attraction really is one of a kind and just has to be visited by any history enthusiast.
La Galite Islands: Again, this next attraction isn't strictly within Tabarka, but being just 60km off the coast of the area it is certainly within day-trip distance. These islands are rocky to say the least, but also happen to be largely uninhabited. What this means is that you can again bask in real, natural beauty, and also cast your eyes around various Romain remains that dot the land.
What are the best things to do?
The size of Tabarka means that it's not blessed with quite as many things to do as some other cities in Tunisia, although there are still sufficient attractions to have a good time. Most holidaymakers who take to Tabarka will take advantage of the following:
Coastal activities: Tabarka's location means that it is perfect for those of you who like to dabble in various coastal activities. Whether it is scuba diving or snorkeling, both are relatively popular within Tabarka although you should consult with a local to find the best spots. Most of the time, you will be diverted to shipwrecks – which can make the activities even more interesting!
Traditional shopping: Tabarka boasts nothing like what one would expect to find on a modern-day high-street. Instead, it's completely traditional, with the cobbled stone pavements highlighting this point down to a tee. This falls right into the hands of some tourists though, who love to explore such streets and take to the shops which stock hordes of local produce.
Music festivals: Time your visit right and you may even be blessed with a music festival in Tabarka. It's by no means one of the most vibrant cities in Tunisia, but festivals are regularly held here and if you are a fan of jazz you will be particularly satisfied!
Where are the best places to eat?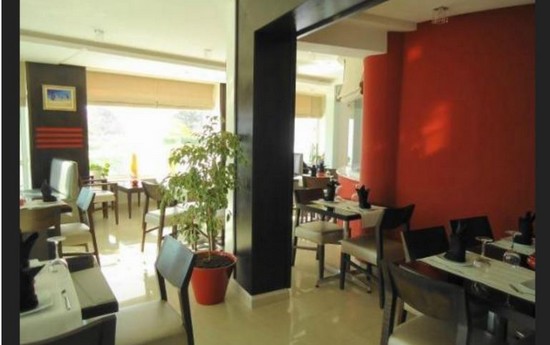 While we seem to have commented on it through every section of this travel guide, the size of Tabarka makes it very difficult to comprise a thorough list of restaurants that you should visit. There are a handful of recommended establishments, but if you are staying in Tabarka for a prolonged period of time it might be difficult to find a different venue for every evening.
Nevertheless, the following restaurants are recommended and are worthy of a visit if you are around:
Le Festival: With a name like Le Festival, one might almost be convinced into thinking that this was a vibrant establishment! As it turns out, it is one of the more lively venues in Tabarka but is renowned for its shisha pipes and fresh food. Customers are treated like royalty and there's no doubt that this is one of the premier restaurants in the region.
Le Mondial: Situated close to the sea, this is another thoroughly recommended restaurant. Its atmosphere is completely romantic and picturesque, while the food is obviously worthy of a mention and happens to be exceptionally cheap as well!
Touta: Venture near the marina and you will stumble across Touta, which provides a varied menu including both meat and fish dishes. It's worth stating that this is a restaurant that does serve alcohol, while the waiters are some of the most polite around and will cater to your every demand.
Pizzeria Bellevue: The name should give absolutely everything away here, with this final restaurant being an impressive pizza establishment based in Tabarka. As well as pizza, Pizzeria Belleview is renowned for its mixed grill, while the dishes are huge to say the least and are described as being some of the best value around. Whether you are looking for a quick lunch or evening meal, this is one restaurant that can comfortably cater for both.
What are the best bars?
If you are on the lookout for a vibrant nightlife, Tabarka isn't your place. There are no workarounds here; this is a location which prides itself on history, local culture and a general 'small village' vibe.
While you might be able to stumble across the odd bar that is frequented by locals, few travel guides will point you in the right direction. In truth, if you are on the lookout for an evening's worth of entertainment, it's worth booking your hotel shrewdly and finding one with a lively animation team. It's in these cases where the hotel itself might have a late-night bar, or the team will know another nearby city which has a worthwhile nightlife.
What is the accommodation like?
This is one of the few areas of Tunisia which is not awash with tourist hotels. Instead, most are run by locals, which adds another degree of charm to Tabarka. The following highlights some of the most recommended hotels in the region:
La Cigale Hotel: The fact that some past visitors have compared La Cigale Hotel to five-star establishments in the US and Europe says everything you need to know about its reputation. It's exceptionally clean, boasts excellent food and has service that cannot be paralleled.
Tabarka Beach: While the previous hotel is regarded for its service and food, Tabarka Beach is a slightly different establishment. As the name suggests, it's more of a "resort" and boasts a stunning outdoor pool that dominates the grounds. The hotel is comprised of standard suites and detached bungalows; with the latter ideal if you are looking for a quiet and relaxing stay. It would be fair to say that this is one of the more modern hotels in Tabarka and you will be blessed with some of the best views around.
Les Mimosas: This is a more traditional offering, but that should not detract from its overall quality. Les Mimosas again boasts splendid gardens and you will have some of the finest views to sea around. It's been open for years, has a distinct charm, and is probably one of the best value for money hotels in the region.
Eden Village Mehari: Once again, the beach and sea views make this hotel completely worth a visit. It's also one of the few in Tabarka that has a vibrant animation team, so if you are on the lookout for a place with a lively atmosphere then Eden Village Mehari could be the answer. Perhaps strangely, this hotel also tends to specialize in Italian cuisine – with the establishment seemingly run by Italians.
---